Last year on 30 December, I began the "25 Years Ago" series based on school magazines, by writing about 1982-83. Let's move a year forward and see what Loyola was like in 1983-84.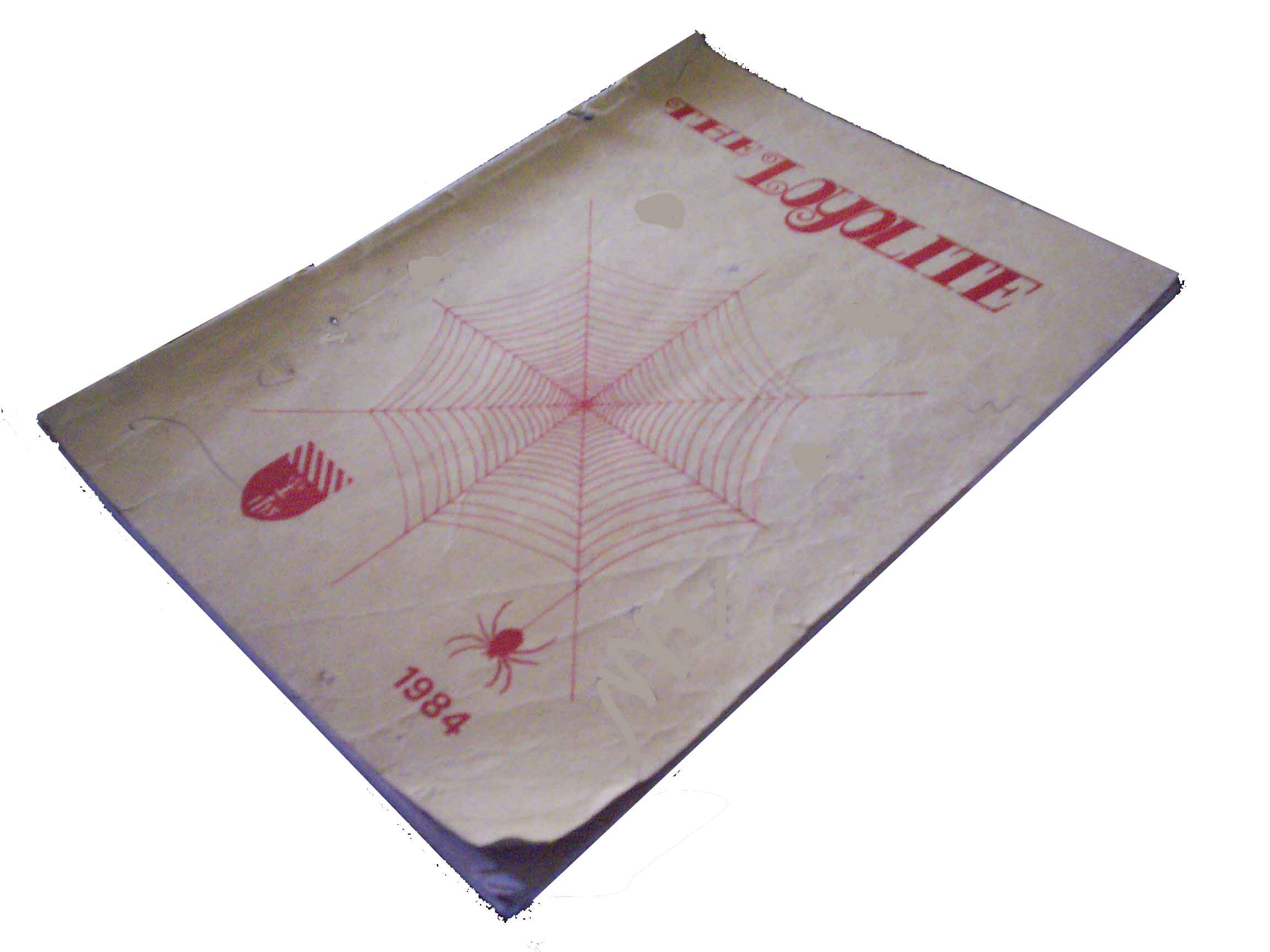 In June 1983, the school's new building (the Silver Jubilee Block) was inaugurated by Bishop Acharuparambil. According to the accounts presented in the souvenir released on the occasion, the building was constructed at a cost of Rs 15,53,116.55, and further works worth Rs 1,50,000 were expected at that time. The money for the building came from loans (more than Rs 9 lakh), from the school (Rs 3.15 lakh), building fund fees (around Rs 1.95 lakh), donations (about Rs 1.29 lakh), the souvenir itself (Rs 1,09,959.17), and interest. To publish these accounts immediately after the Principal's Preface, and before Page 1 of the souvenir, suggests an ethic of transparency that was extraordinary. Interestingly, the same publication also carried the fuzzy presentation of results of a Jesuit evaluation of the school.
The most historic happening of 1983-84, when I look back, is the change of guard at Loyola. Readers will quickly and rightly guess that Fr CP Varkey left that year. True, after fourteen years at Loyola, Fr Varkey left in September 1983, and Fr Varghese Anikuzhy became Principal. But in retrospect, an equally important change of guard had happened four months before Fr Varkey's departure. For when school reopened in May 1983, two priests returned after several years to Loyola: Fr John Manipadam (as Rector), and Fr Mathew Pulickal (as teacher of English and History in high school). Together and separately, they were to influence a generation of Loyolites, and build Loyola's alumni network.
The School Magazine dated 1984 had quite a few pages on Fr Varkey — including the Malayalam poem written by Loyola's bard Mr PK Sebastian (which was presented as a "mangalapatram" from the staff during Fr Varkey's farewell function), and an article on Fr Varkey by the other Sebastian in the staff room — Mr BO Sebastian. But here, I will present extracts of only two of the many brief notes by students:
The boys of my class told me how Fr Varkey used to thrash the boys (V to X). I was frightened. But during that time he experienced a change….From then on he started using a new phrase "Golden Heart!" Once when some money and books were stolen, he became very angry. In the Assembly he gave us a verbal beating. In the end he overcame his anger, urged us to kindly return the money to the owner. After a few days the owner got back his money and the boy had apologised to Fr Varkey.
– C Prem IX B

Though one could not call him perfect, one had to admit that his good qualities far outweighed all the others. We boarders were a group to which he had always been attached."
– Cherian Abraham IX B
In his annual report on School Day, the Principal Fr Anikuzhy said, "From 1st Sept 1983 we arranged for a special bus-trip from the school at 4.45 pm to encourage games to build up teams." (sic) That year Loyola won the Junior Championship in the District Sports Meet, the athletes also shone in the YMCA Meet, and our cricketers and mini basketballers were runners-up in the District. The "second trip" was an innovation that extended opportunities to day scholars to develop their sporting abilities.
I didn't know that Loyola had student postmen. But the the school magazine says that the Postal Squad debuted in 1983-84. "With the introduction of this Squad many problems regarding the mail have now been solved," said the squad member's report. This squad perhaps served the hostelers. I request the beneficiaries of that era to enlighten us on what problems you faced — mails missing? mails opened before delivery?
As in the previous year, there were various squads which went about their work routinely. But three bits struck me:
The LENS Squad "put up weekly bulletins and special issues on important occasions like the Youth Festival and the School Day". Note the impressive regularity of LENS once-upon-a-time.
The Squad for Sneha Sena and Soldiers of God reported that there were 96 subscribers for Sneha Sena, and 164 subscribers for the English edition of Christian booklets. English was the preferred language of reading, even though not of speaking, as the Squad for English-Speaking would attest!
The Quiz and Debate Squad reported that "the students were found to be demanding new Quiz Programmes but they were not interested in debates." Today, we should read that slightly differently — quizzing was rising in popularity in Loyola even before Siddhartha Basu began Quiztime in 1985.
I'll end with an excerpt from one of my favourite articles in that school mag. Abhilash Mohan's "Mahabali 33, 83" probably owes it intriguing title to a savvy teacher who decided the topic of the school youth festival's Malayalam essay/story competition. And this VIII B student rose to the occasion. The article begins directly but poetically "1933-le ponnin chingam. Paadangal thelinju. Pathaayangal niranju." Two paragraphs later, we zoom fifty years to "1983-le thiruvonappulari. Maveli airbus-il vannirangi." And a few sentences later,
Nattucha. Nadakkaan vayya. Auto-yum taxi-yum city service-um onnum kaanaanilla.
'Mooppinnay, enthaa eri veyilu kollunnathu. Valla nerchayumundoe?', oru cheruppakkaaran chothichu.
Maveli: Oru Auto kittiyaal kollaam.
Cheruppakaaran: Thaan eviduthukaaranaa? Innu bandh alle?
In simple sentences, the 13-year-old Abhilash not only wove in the lingo of the times, but also captured a timeless aspect of the political culture of modern Kerala.