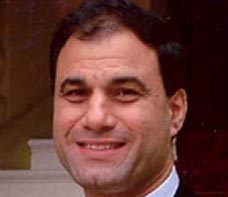 Karan Faridoon Bilimoria (Lord Bilimoria of Chelsea) studied at Loyola School, Trivandrum in the late 1960s. At the age of eight, he attended Loyola, "a typically strict Jesuit school where I was caned for bringing in comics," recalled Lord Bilimoria in an interview to The Independent. His father was an army officer, and young Bilimoria's schooling was spread over seven schools, most of them in south India.
Based on available clues, my guess is that he studied in Loyola from 1968-1971, from Standard 3 to 5.
Lord Bilimoria became member of the House of Lords in 2006. He is co-founder and Chairman of Cobra Beer, and holds several distinguished positions in the UK.
Tailpiece: A few years after Karan Bilimoria left Loyola, the school abolished caning as a method of punishment. Today, one of Bilimoria's schoolmates, Vineeth Abraham, ranks among India's finest comic collectors.
Hat tip: Anup Kuruvilla John (1997 ISC)