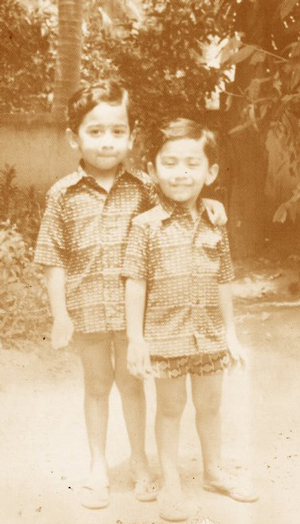 When Roshen (1989) sent me this, I could not resist putting it here.
– Ashok
Hi, this is Roshen, Ashok's brother. B.O. Sebastian sir's comment that he and Teresa madam had never been to Nigeria has come as a shock to Ashok and me. Old memories are being looked up, puzzled looks are being exchanged…
The story begins when Ashok joined LKG in Loyola. Unlike now, he was a very silent kid and rarely spoke a word. A few days after joining Loyola, he came home prattling "akka chakka nova, leh misa, leh misa, gudu gudu misa, gudu gudu misa". No really, I didn't make that up. He said that – many, many times.
As the elder brother, I was amused by this sudden eloquence and showed off my brother to our neighbours. No one could understand what Ashok was trying to tell us.
Our mother, worried, went to meet his class teacher, who had newly arrived from… ahem… Nigeria. According to family legend, his class teacher Teresa madam, told our mother that Ashok was actually singing a song she had taught the class. "akka chakka nova" was a song she had picked up from her days in Nigeria. There was nothing to worry about the boy. In fact, he seemed to be appreciating other cultures very well. At least, that's what our mother told us when she came home.
And now BOS reveals that he and Teresa madam have never seen the shores of Nigeria. Ashok has frantically been googling for "akka chakka nova" today. Zero results!
Putting all pieces together, it's clear now why our mother used to sleep so little those days. She was hiding Ashok's gibberish from the rest of us. Teresa madam's Nigerian connection was invented to "explain" the prattle. And thirty years later, we still thought BOS came back from Nigeria.